Egypt welcomes you with its mighty Nile and magnificent monuments, the beguiling desert and lush delta, and with its long past and welcoming, story-loving people.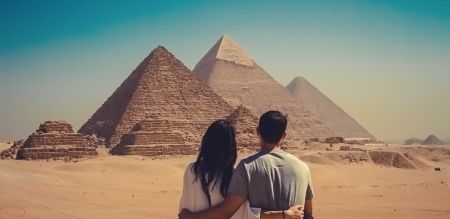 Private Luxury Tour of Egypt
10 Days  :  Group Tour  :  Everyday
Step into the famous land of the pharaohs and wonder at its ancient temples, pyramids, tombs, mummies, and culture. Travel across Egypt and down its Nile in the 10-days luxurious private tour. In this luxury tour of Egypt,
you will get to explore Egypt's main attractions in Cairo, Giza , Luxor, and Aswan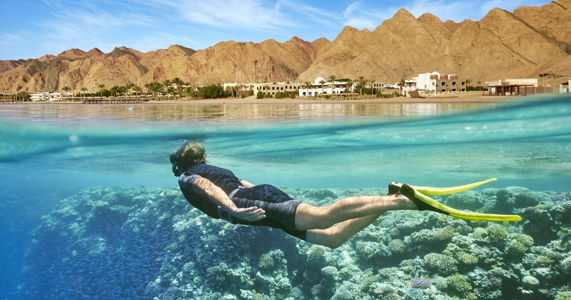 Luxury Nile & Red Sea
13 Days  :  Private Tour  :  Everyday
Experience the sights of Egypt in Cairo, on the Nile, and on the beautiful Red Sea coast. Through our Luxury Cairo, the Nile & Red Sea tour, in Cairo, you will get to see the Pyramids and Old Cairo. Travel to Luxor to embark on a Nile Cruise to Aswan, enjoying the ancient sights along the way. End your trip relaxing on the beach in Hurghada
Romantic Cairo to Luxor
About 2 Hours  :  Group Tour  :  Everyday
Spend 5 days exploring attractions along the famous Nile river in a private guided tour of Egypt throughout the ages. Visit the iconic Giza Pyramids and the Sphinx, tour the Egyptian Museum, etc. After your adventures in Egypt's capital, you'll head south to Luxor, where you'll see Hatshepsut , luxor, karnak Temples and the Valley of the Kings .
About 8 Hours  :  Private Tour  :  Everyday
Discover Giza Pyramids Tour Visiting the Pyramids and the Sphinx, then the older Step Pyramid at Sakkara and Memphis, the first capital of Egypt to Witness the greatest of Ancient Egypt near Cairo all in one day.
1 Day  :  Private Tour  :  Everyday
Enjoy Alexandria Day Tour. See catacombs and Qaitbey Citadel, built on the site of the legendary Lighthouse. Visit the great Bibleotheca Alexandria and enjoy a fresh seafood lunch on the Mediterranean.
About 8 Hours  :  private Tour  :  Everyday
Enjoy Cairo City Tour Visiting: Ancient Egypt in the Egyptian Museum. Then visit Salah El Din Citadel and Mohamed Ali Mosque, Tour Old Cairo, the city that pre-dated Cairo with many historic churches and Roman
"VG Tours made our stay in Cairo unforgettable. They took care of us from the airport pick up to drop off. Our tour guide was very professional and friendly. I recommend VGT to everyone who wants to visit Cairo."
"Am from Australia my first in Egypt I found everywhere we went was really wonderful highly recommended VG Tours for everyone looking for wonderful trip in Egypt."
"Great tour perfect for 3 days in Cairo. The tour guid was fantastic the best we have had, we really learned a lot."
"I truly don't have the words to express the amazing vacation that was planed for us by VG tours. While planing the trip and on the trip our representatives were always availiable to me to answer any quetions i had . 
"It was a fantastic tour in Sharm Alshaikh and Hurgada with the best company Memphis. I recommed it to all the visitors."
"went to Egypt  this spring with a group of friends and we booked VG tours . For the duration of our stay we have one word to describe there service, SUPERB!!! Will surely go back again"